Mod Note:
From now on, I'm not going to make banners anymore. It just takes too much time, which is one of the reasons why I can never seem to stay on schedule. A while ago, I made a banner maker application post, so if you'd like to make the banners, please do sign up there. If no one else wants to take care of that, you will get participation banners but no winner's banners anymore. I'm not sure anyone even really uses the banners, so I doubt it's going to disappoint anyone. But if you want banners, I do encourage you to sign up as a banner maker, even if you're not an experienced graphic maker. It doesn't have to be anything fancy; just a simple banner with all the necessary information and the icon in question would be enough. :)
Now, for round 11, we're going back to actor-claiming...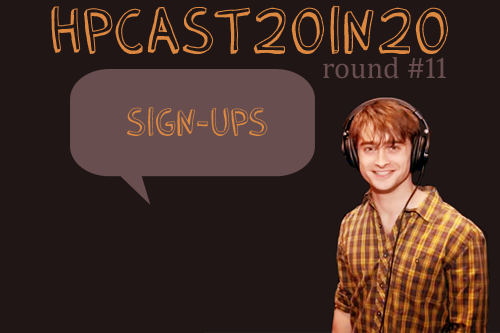 01 | To participate, you must be a
member
of the community and have read these rules.
02 | Please try to only sign up if you plan on completing your set.
03 | Every actor or actress may only be claimed by
one
person. You may claim anyone who's ever been in the Harry Potter movies, no matter how small or insignificant their role was.
04 | Sign-ups will remain open till the end of the month or until we reach 15 participants.
05 | Themes and codes will be posted on November 1st.
06 | Your 20 icons are due on November 20th.
ROUND #11 PARTICIPANTS
To sign up, please use the following template: